SURPRISE!! I'm turning 26 this year and to celebrate this birthday, Alec and I will be taking a road trip to NOLA (aka New Orleans)!!
Ever since we finalized New Orleans as our destination and the hotel was booked all I can think about is what am I going to wear? I would really like to buy a cute summer outfit that I specifically get to wear for New Orleans. An outfit that would be ideal for walking around the city in the heat/humidity and a really nice outfit for our fancy anniversary/birthday dinner.
That's where all of you come in! I need help figuring out what to wear and what stands out as New Orleans style.
1) COUNTRYSIDE BEIGE TIE-SLEEVE SHIRT DRESS LULUS $46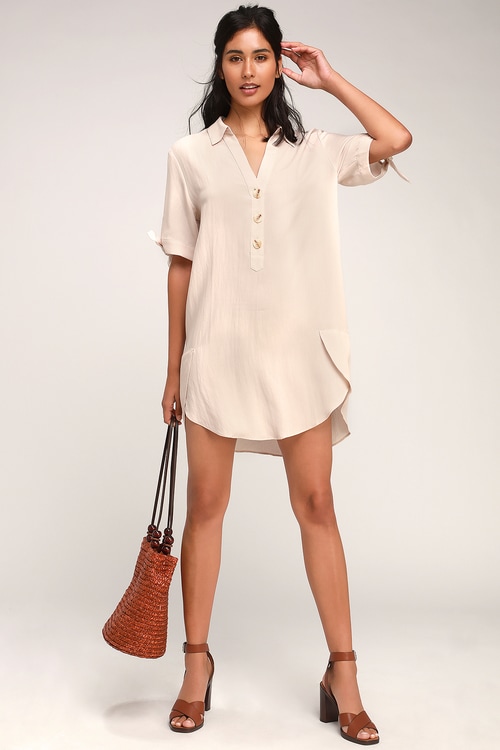 I think this dress is SUPER CUTE and perfectly simplistic. I love basic dresses because they are easy to dress up or down. & I think this dress will be perfect to wear with tennis shoes for walking around or heels for a nice night out. They also have this dress in Olive Green and Navy Blue, but I prefer the Beige color honestly. 
2) PALMERAS BLUE OFF-THE-SHOULDER MINI DRESS LULUS $48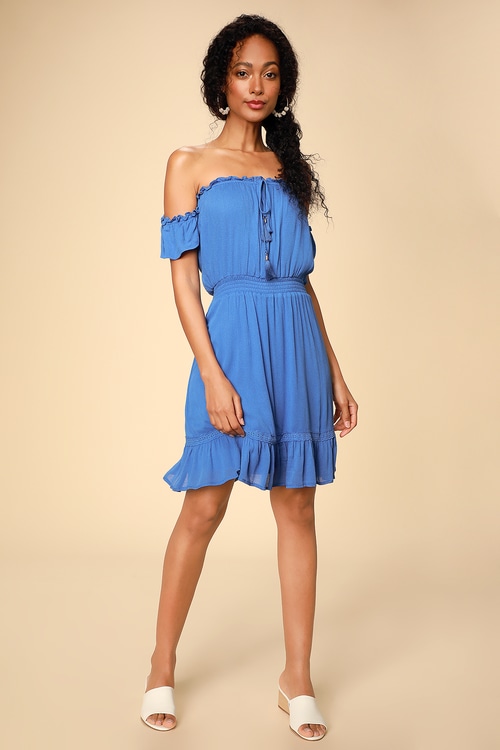 I love the casual look as this dress and it has the perfect amount of girly flair. I think this dress will be super cute and comfortable walking around New Orleans in the summer and will be perfect for lunch and a casual dinner. They also have this dress in White and Hot Pink and honestly, if I could I would purchase all three because this dress looks SO DANG CUTE ON HER!!
3) Forever 21 French Terry Drawstring Jumpsuit $14.90 
I love this outfit for the drive over. I'm really weird and I like to plan out my road-trippin' outfits as well. This number looks very comfortable for a 5 and a half hour drive. I can slip on my sandals or Adidas and be ready to hit the road. Forever 21 has this jumpsuit in black, heather grey, and mauve (but that was sold out in my cart, boo!).
4) Forever 21Crochet Trim Maxi Dress $27.90
If you know me in real life then you know white is a color I personally HATE to wear! I don't care about buying bleach (honestly an un-needed expense for our nonexistent white clothes) and I don't want my clothes to look dirty after multiple uses. White can turn into off-white REAL QUICK and I'd rather buy any other color on the spectrum because they're less hassle. Like, I don't even want a white wedding dress. I hate white on clothes that much.
So, to have this in my cart is rare, but I thought this would be perfect for the hot, humid New Orleans weather and I need something to reflect the light off of my pale skin as much as possible. I might decide against it, but I also love the whole maxi/crochet look of this dress.
They also have this dress in Mustard, but it might be too much yellow (if that makes sense). I also think this dress would be a bit more difficult to turn into a full outfit. I would just throw on white sandals and call it a day, but I want to branch out with my style and get out of my comfort zone.
5) Forever 21 Chambray Ankle Pants $19.90 
I thought this was a cute number and it would obviously be great for pairing with sandals and walking around town. However, I worry about ordering jeans/pants online because they just fit so differently on the body than in the photo. The model in this photo is 5″11′ and is wearing a size small. I'm a size small and 5″5′ and these pants might not lay over the ankle like it does for the model in this photo (which is the look I like/prefer). So, I might end up passing on these pants UNLESS I find them while shopping at Forever 21 and can try them on in person. Forever 21 has this in Light Denim and Medium Denim (the photo above).
*************************************************************************************
& those are all the article of clothing that I would love to bring with me to New Orleans. Now I need to search black outfits for when I visit the American Horror Story Coven home. So, if any of you lovely people know where I can purchase a black hat specifically for this tourist spot please comment it down below!! I badass season deserves a badass outfit!!
Which out was your favorite in general or for my upcoming New Orleans trip?
With love,
A Simple Wildflower